1.0.0
PES 2017 - Pro Evolution Soccer is the version for iPhone and iPad of Konami's game that's battling it out with FIFA to become the best football title

The Pro Evolution Soccer for iPhone
As you probably know, every year FIFA and PES (known as Winning Eleven in some countries) battle it out to become the best football video game. Both simulators are absolutely brilliant, and regardless of whether you download the iOS or Windows version, or the Android APK, they leave you gobsmacked.
And which one's the best? FIFA or Pro Evolution Soccer? It's true that the series developed by EA Sports has taken the lead over Konami because it comes along with the official FIFPro licenses of all the players, which is an added value for all those users that don't like random team and player names
An unbeatable football simulator
But if you don't have an issue with this detail, PES 2017 - Pro Evolution Soccer offers you a football game for iPhone with a detail level and playability that's only comparable to EA's game. It's a real simulator that when compared to its eternal rival is the winner if you're looking for a game that places special emphasis on the arcade aspect, making it a much more direct and straightforward title.
Konami's title brings together the best aspects of all football games.
In this PES 2017, we'll find adapted to Apple's mobile devices, such as iPhone, iPad, and iPod touch, all the features that have made it so successful on Windows and video consoles of the likes of PS3, PS4, and Xbox:
Special agreements with certain clubs: it doesn't include the licenses of all players but it does have those of specific teams and leagues, including Liverpool, Borussia Dortmund, and FC Barcelona.
Optimized mobile experience: the movements of the players, the accurate passes, and the tactics have been adapted so that you don't notice the difference between platforms.
Build your own team: become a scout and keep an eye on future players for your team. Take into account each one of their virtues to improve the performance of your team on the pitch.
Take part in renowned championships such as national leagues or the coveted UEFA Champions League.
Play on your local network in the online multiplayer mode very fluidly.
Optimized game control so that you don't feel uncomfortable playing on your smartphone.
What about the prices? Where can I download Pro Evolution Soccer for free?
After so many years, still the same old questions? It's totally free, so you won't have to pay absolutely anything. Just click on our green download button and you'll be redirected to Apple's iTunes App Store to download it without problems. However, the game does include some in-app purchases that, despite not being a must, intend to improve your experience.
What's new in the latest version?
You can switch between Classic and Advanced controls.
Updated information about players and managers.
Requirements and additional information:
Requires iOS 9.0 or above.
Compatible with iPhone 5s, iPhone 6, iPhone 6 Plus, iPhone 6s, iPhone 6s Plus, iPhone SE, iPhone 7, iPhone 7 Plus, iPad Air, iPad Air Wi-Fi + Cellular, iPad mini 2, iPad mini 2 Wi-Fi + Cellular, iPad Air 2, iPad Air 2 Wi-Fi + Cellular, iPad mini 3, iPad mini 3 Wi-Fi + Cellular, iPad mini 4, iPad mini 4 Wi-Fi + Cellular, 12.9-inch iPad Pro, 12.9-inch iPad Pro Wi-Fi + Cellular, 9.7-inch iPad Pro, 9.7-inch iPad Pro Wi-Fi + Cellular, and iPod touch (6th generation).
Offers in-app purchases.
Antony Peel at Google +
Images PES 2017 - Pro Evolution Soccer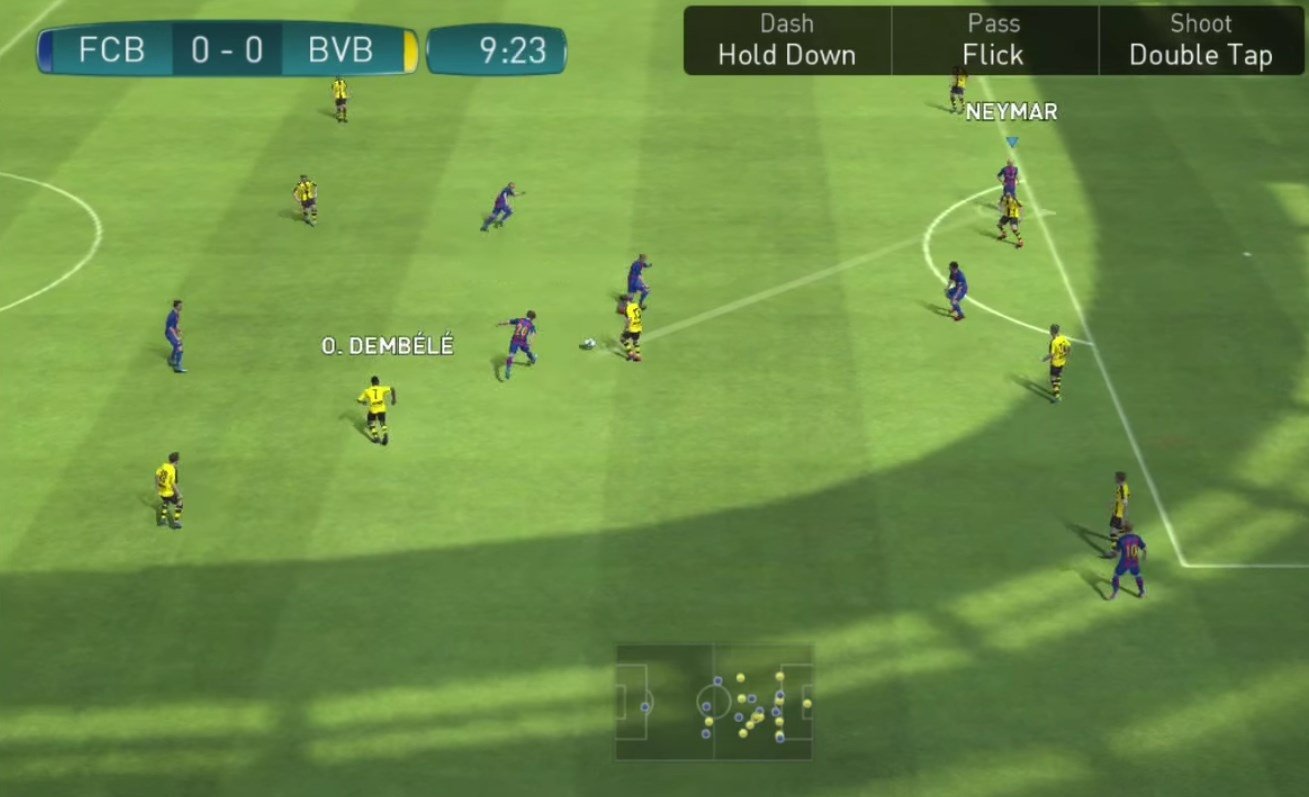 The North American version of Pro Evolution Soccer 2008

The 2010-11 football season on your phone